So Valentine's Day is over... ='(
Which means I'm officially done with winter.
Well..I might still have to wear a coat..And bring a pair of snow boots everywhere..Including Flordia...=/
But I'm through with dark colors.
No more dirty browns, ashy grays, and as little black as I can pull off mid-winter!
This is the time of year I start pulling out my bright summer clothes,(secretly so no one assumes I'm crazy.. =P ) and seeing what I can match with my winter basics to brighten them up!
Y'all know I'm a fan of the layered look.. AND it
is
bright pink.... So even though it's from one of those places where you have to buy, like, two sizes bigger than normal to keep it modest, I thought it was a cute way to brighten up a winter-sick closet.
(WARNING: It's from "One of
those
places! =P )
And as it's from the afore said "One of
those
places" it is going to need something under it.
Now, I don't know about you, but I cannot stand the little bulge that wearing a tee shirt under a sweater makes.. So I prefer tanks.
I picked this particular one because of the frilly lace on the neck line. =)
I think I'm in love with this skirt!!!
I like the fringe alot! I've always thought frayed ends on denim skirts were cute.. =D
Ahhhh....
I love colored tights....
Even though if you wear them with a long skirt and boots you can't really see them...Oh, well...
I love purple. Despite Barney and the creepy mass of goop from "The Absent Minded Professor", it's still one of my favorite colors! (After blue, pink, white, and yellow. =P )
Sling back, wedge heel, hot pink?!! How great is that?! (At least I think it's great! =P)
AND the pink totally matches the sweater!
(It's like they were made for each other! Aww!!! =P )
AND, since it's peep-toed, you can wear these shoes all the way through spring and summer!!
AND the inside has cute little polka dots!!
AND....Actually, I'm finished ANDing. =P
"Duckies are cuddly! Duckies are cute! They're never nasty or mean..."
Hmm...Or maybe it was puppies...Not really sure..
One thing I am sure of, these duckies are super cute on the bright&cheerful purse!!
How do you not like these braceltes?!=
D
I wouldn't wear them all at once though.. It comes as a set of nine, and my limit is three.
(Ok...Four..But only on the rare occasions when I can't decide on which three to wear!)
With these particular bracelets I'd go with the pink, yellow, and purple.
Or the pink, skinny yellow, and purple...Or the green, pink, and yellow...
(And this is why I end up wearing four...=P )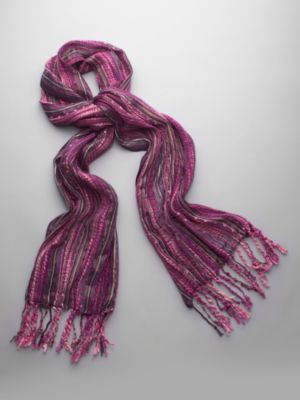 Last but not least, I thought this scarf would be a cute finishing touch!
Just tie it around your neck and voila!
The purple goes great with the tights! (Which, as you are not wearing boots, are visible and a very important part of this ensemble!)
(Me liking this scarf has absolutely nothing to do with the awesome little metallic threads...Really...Ok...Maybe a little... But how do you not love shiny scarves? =P )